Read The Full Article On: Marketbeat
Ohio-based electric vehicle (EV) maker Lordstown Motors (NASDAQ: RIDE) stock has been on a rollercoaster ride hitting peaks in the $29 to $31 range to lows in the $13 to $18 range on three separate occasions in the past six months. The Company has a first-mover advantage among U.S. EV makers with its first commercial EV truck, the Endurance, scheduled for rollout in September 2021. Competitor Fisker (NYSE: FSR) is not scheduled to release its all-electric Ocean SUV until 2022. The double whammy of a Morgan Stanley downgrade and the United States Post Office (USPS) EV fleet contract going to Oshkosh (NYSE: OSK) pounded shares back to 2021 lows. Shareholder and peer commercial EV maker Workhorse Group (NASDAQ: WKHS)shares also got punished. Prudent investors looking for exposure into the commercial EV segment can watch shares of Lordstown Motors for opportunistic pullback levels to build a position.
Connection to Workhorse Group
The CEO of Lordstown Motors, Steve Burns, was the former CEO of Workhorse Group. CEO Burns owns 28.1% and Workhorse owns 10.1% of Lordstown Motors outstanding shares. This explains why both stocks tend to move together, especially in light of recent stock collapses stemming from the (potential) loss of the USPS fleet contract which both companies were bidding on. The Biden Administration "Buy American" executive order seeks to replace all federal vehicles with net zero-emissions vehicles with American-made parts. While details still await to be given, it's estimated 645,000 vehicles may be replaced with EVs, hybrids, and or electrified. Nearly 35% of these vehicles are operated by the USPS.
The Endurance EV Truck
Lordstown Motors is working on a single model EV truck called the Endurance, the world's first all-electric commercial pickup truck. The model features the all-electric In-Wheel Drive System. Each wheel has its own electric motor resulting in just four moving parts with 95% more efficiency over a traditional internal combustion engine vehicle with thousands of moving parts. The integrated software monitors and adjusts each wheel every millisecond to optimize performance. The advanced Telematics system provides a wide range of data for efficient fleet management and analysis. The Endurance does 0-60mph in 5.5 seconds providing 600 horsepower and over 250 miles range on a 30-to-90-minute fast charging. The Company has over 100,000 pre-orders with the average fleet order of 600. The Company has initiated metal stamping and wilding on 57 Endurance Beta prototypes and expects to complete the first Beta on schedule in March. The Endurance already achieved 5-Star crash test rating via computer simulation. Commercial rollout is on track to begin in September 2021. The retail price is $52,500 not including the $7,500 federal subsidy ($45,000 after subsidy applied). This places the Endurance as one of if not the lowest cost all-electric, zero-emission, U.S. made full-size commercial pickup trucks in the U.S.
The First Mover Advantage Infrastructure
The Lordstown Complex is a reoutfitted General Motors (NYSE: GM) factory that had produced over 16 million vehicles. The new factory has 6.2 million square feet with the capacity to produce up to 600,000 EVs annually.. The Company built out its servicing infrastructure by partnering with Camping World (NYSE: CWH) to provide servicing for Lordstown Motors EVs at its 170 locations and 2,000 service bays. Lordstown will also collaborate with Camping World on the electrification of travel trailers and motorhomes.
EV Hub Wheels
The EV hub wheels with an electric motor in each wheel is a first-of-its kind. Morgan Stanley has concerns of the radical new technology never before being tested at scale for the commercial light vehicle market. The growing competition and execution risk prompted them to initiate coverage with an Underweight rating with an $18 price target. While the Company has over 100,000 pre-orders, these can be placed with a $100 deposit and non-binding. If Lordstown were to deliver on even 50,000 Endurance trucks, that would equate to over $5 billion in revenues. They are the first-to-market in the U.S. if they meet the September 2021 schedule. Risk-tolerant investors can watch for opportunistic pullback levels.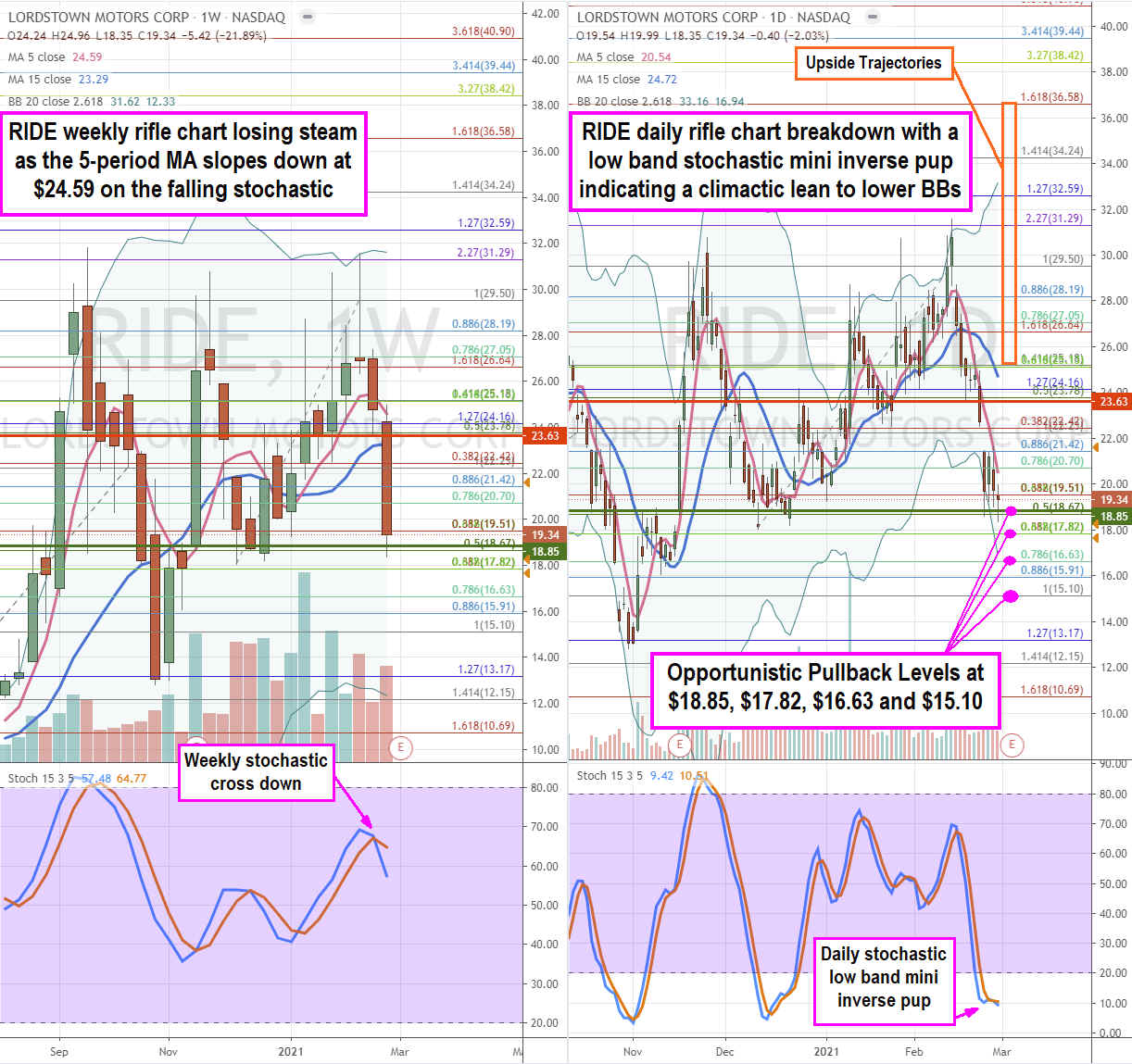 RIDE Opportunistic Pullback Levels
Using the rifle charts on the weekly and daily time frames provides a precision near-term view of the landscape for RIDE stock. The weekly rifle chart uptrend has stalled after peaking at the $31.29 Fibonacci (fib) level. The weekly 5-period moving average (MA) at $24.59 is now sloping down towards the 15-period MA at $23.29 as the weekly stochastic has also crossed down from the70-band.
The weekly market structure low (MSL) trigger remains active above the $18.85 against the weekly market structure high (MSH) sell trigger under $23.63. Prices may ping pong between the triggers. The daily rifle chart has been in a downtrend with a falling 5-period MA resistance at $20.54. The daily stochastic made a full oscillation down through the 20-band and appears to be attempting a low band mini inverse pup which may rug pull shares to the daily lower Bollinger Bands (BBs). Prudent investors can look for opportunistic pullback levels at the $18.85 weekly MSL trigger, $17.82 fib, $16.63 fib, and the $15.10 fib. The upside trajectories range from the $25.18 fib up to the $36.58 fib.