Read The Full Article On: Investorplace
Stay the course with NIO stock as there's room for more than one successful EV maker
It's amazing how much a company can change in the span of just a year. Indeed, the Nio(NYSE:NIO) that you know today isn't the same one that made some Nio stock holders nervous in early 2020.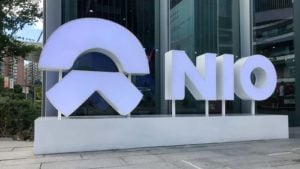 Source: Andy Feng / Shutterstock.com
Then and now, the obvious front-runner in the electric vehicle niche would be Tesla(NASDAQ:TSLA). And if you're going to discuss any electric car company, including Nio, it's hard not to make comparisons to Tesla.
The idea that Tesla holds a monopoly over the electric vehicle sector might have been more plausible a year ago. Things have changed, though, and some of Tesla's peers are catching up.
Is it possible that Nio is now posing a major threat to Tesla and other electric car manufacturers? It's a possibility worth considering. At the very least, we can say that the gains in Nio stock haven't disappointed the shareholders.
A Closer Look at Nio Stock
Buy during times of peak pessimism. That's a saying for value investors to live by, and it certainly applies to Nio stock.
Would you believe that within the past year, Nio stock has traded as low as $2.11 and as high as $66.99? That's a price move that even the staunchest Tesla fans should appreciate.
Nio stock closed out the trading session of Feb. 12 near the $60 level, so the bulls are clearly still in charge. Given its current trajectory, it shouldn't be surprising if the stock pierces through $80 in a matter of months.
The only possible concern is that Nio's trailing 12-month earnings per share is -$44.10. That's a number which the stakeholders will want to see turn positive at some point, perhaps even this year.
A Major Improvement
I'm not going to claim that Nio rivals Tesla in terms of vehicle delivery numbers. To be honest, Tesla is the clear winner in that regard.
Yet, we can also look at this issue from a different angle. What's driven the Nio stock price, probably more than any other contributing factor, is the incredible growth of Nio's vehicle deliveries.
Thus, I invite you to consider how much improvement Nio has shown. Let's turn back the clock to the first quarter of 2020, when Nio recorded a measly 3,838 vehicle deliveries.
The prior quarter, Nio reported 8,224 vehicle deliveries. So, the company seemed to be in dire straits.
Now, let's jump back to the future. In January of 2021, Nio delivered 7,225 vehicles. We're talking about just one month here, not a full quarter.
That figure represents a new monthly record as well as 352.1% year-over-year growth. In percentage-growth terms, even Tesla would be hard-pressed to match that right now.
Big Ambitions
Another enticing feature of Tesla is the company's ambitions, which seemingly have no bounds.
But then, Nio's been pretty ambitious too lately. For instance, Nio recently announced that it's partnering with China's Hefei Anhui municipal government to build a new-energy vehicle industrial park.
It will be known as the Hefei Xinqiao Smart Electric Vehicle Industrial Park. Reportedly, the city is seeking to establish it as a center for electric vehicle production.
I'm not saying that Tesla CEO Elon Musk is jealous of this partnership, but anytime a company partners with a government entity, that can be a powerful advantage.
In case that isn't ambitious enough for you, note that reportedly, Nio may be looking for someone to "formulate an action plan to enter the US market." So, Nio's big American invasion might commence in the near future.
The Bottom Line
Maybe the best thing to do, as an investor, is to focus on Nio's strengths instead of comparing it to Tesla.
In the final analysis, it's evident that Nio stock is on a powerful trajectory as the company's growing quickly and preparing for bigger and better things.
On the date of publication, David Moadel did not have (either directly or indirectly) any positions in the securities mentioned in this article.
---
Louis Navellier says before you buy another stock…
A signficant event is about to take place in America's very near future.
He says this new event will make the rich even richer, while financially devastating countless others… and even further fan the flames of social protest.
He says this event has major implications for anyone in — or thinking about getting into — the stock market.