Read The Full Article On: Investorplace
With manageable debt and a culture change underway, GM stock is a buy
By Dana Blankenhorn, InvestorPlace Contributor Feb 3, 2021, 9:03 am EST
Amid all the hubbub over electric cars, General Motors (NYSE:GM) wants you to know they're an electric car company too. GM stock is a serious buy for people looking for a stable EV play.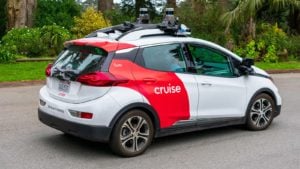 Source: Michael Vi / Shutterstock.com
America's largest car company, by sales, now says it will eliminate tailpipe emissions by 2035and become carbon neutral by 2040. The stock has been on fire since the start of the year, gaining almost 24%.
The company's Super Bowl ads this Sunday will feature actor Will Ferrell touting the Lyriq crossover and making cracks about Norway, where half the vehicle market is already electric.
The promises and hype have taken GM stock to an all-time high. It opens for trade today north of $52/share. That's a market cap of nearly $74 billion and a price-to-earnings ratio of 23. It wasn't long ago that this stock had a single-digit PE.
Managable Debt and GM Stock
If GM can pull off the turn, it won't be worth one-tenth of Tesla (NASDAQ:TSLA) for long.
The turnaround should have started in early November, when the company reported net income of $4 billion, $2.83/share, on sales of $35.5 billion. The balance sheet after earnings showed cash of $39 billion, and long-term debt of $82.7 billion.
It's debt that has been keeping GM stock down. Add the long-term load to the short-term debt, along with the equity, and you have a total enterprise value of $200 billion.
GM went bankrupt a decade ago. Common stockholders were wiped out, with bondholders given warrants at prices ranging from $10-18.33/share. The last warrants expired in 2019. Those who exercised them did well. Its current bonds, issued at about 4%, currently sell for around $100, a yield of just over 2% 
In short, right now GM's debt looks more manageable than it has in years. GM has had over $15 billion of operating cash flow per quarter through the first three quarters of the year. For the fourth quarter, analysts are expecting $1.62/share of earnings, but there's a "whisper number" of $2.20.
Making the Turn
Barring a dramatic increase in interest rates, GM is in good financial position to make its turn to electrics.
That will mean 30 new electric vehicles by 2025. They will be powered by a battery pack it calls "Ultium," created through a joint venture with LG Chemical(OTCMKTS:LGCLF). That's the same Korean company powering start-ups like Lordstown Motors (NASDAQ:RIDE).
GM has already launched a new electric delivery van brand called BrightDrop, which has orders from FedEx (NYSE:FDX).
Like Tesla, GM also hopes to get more than sales from the new electrics.
Microsoft (NASDAQ:MSFT) is investing in its autonomous driving unit, Cruise, while GM says it will favor Microsoft's Azure cloud.
GM plans to build a fast-charging network with EVGo. EVGo is going public through a special purpose acquisition company (SPAC) trading as Climate Change Crisis Real Impact I Acquisition Corp. (NYSE:CLII).
GM also plans to sell insurance through its OnStar system, based on real-time data on driving.
The Bottom Line
I called a bottom on GM in August, after a poor second quarter.
The stock's price has doubled since then.
Back in September, Tesla could have bought GM with the equivalent of seat cushion money. CEO Mary Barra was selling an electric future based on a gasoline-powered present.
She still is.
The fact is, little fundamental has changed at GM since August. What has changed is the market's view on whether GM can execute.
Analysts like Adam Jonas of Morgan Stanley (NYSE:MS) now believe it can. Some even believe the company's dividend, suspended last year, will return soon.
If it does, expect GM's valuation to jump over $100 billion. Even if it doesn't, GM is now a speculation Wall Street believes in.