Read The Full Article On: Investorplace

Buy XPEV stock now, but beware these few sell signals
XPeng (NASDAQ:XPEV) represents a Chinese EV manufacturer that, in a different world, would look like a slam dunk in many respects. Still XPeng stock is anything but.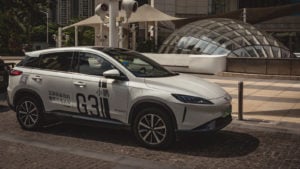 Source: Johnnie Rik / Shutterstock.com
For investors considering whether to sink money into XPeng shares there is both reason to be bullish but also a strong case to stay away.
My visceral feeling is that the correct and profitable way to play XPeng currently is to buy on the strength of the Chinese market and wait for data regarding a few massive headwinds.
Electric vehicles are expected to get a political boost this year because President-elect Joe Biden is a strong proponent of EVs. This Politico article hints at one such potential funding source for Biden's aspirations. But regardless of the origin, one thing is clear: money funding EVs is likely to increase under the new president.
But XPeng is a Chinese EV company with operations in China and no current explicit plans to sell in the U.S.
However, it looks to me as if the company is gearing up for a potential push toward the U.S. market. The recent expansion of its sales base to Norway, its first market outside of China, looks to be that test case.
Norway, Europe and XPeng Stock
Norway makes an excellent target for sales expansion for any EV manufacturer. The company provides exposure to broader European markets in which 500,000 plus full electric vehicles were sold in 2020. All told, more than 1 million full EVs and hybrid EVs were sold in 2020. 
Norway has rich EV subsidies and aims to have all cars sold by 2025 be zero emissions. In fact, their subsidy program covers about a third of the purchase price of an electric vehicle. 
XPeng delivered 100 of its G3 SUV across 28 cities within Norway. Given that some of the vehicles were delivered to cities in the far north, we can assume that XPeng will receive data on the harshest of conditions.
Importantly for potential future U.S. sales, the G3 includes an English language interface. So XPeng is going to get useful data that will allow it to expand further into Europe. After that much of that data will be directly applicable to U.S. markets given the language similarities and the climate similarities between extreme northern U.S. and Norway.
However, as with many things, there are complicating factors.
Security Risk
My Investorplace colleague Ian Bezek recently outlined one of the biggest risks associated with an investment in XPeng: political risk. 
From the premise that the New York Stock Exchange's recent security-related delisting of three prominent Chinese telecom companies will bode poorly for XPeng stock. Bezek speculates that since vehicles contain sophisticated communications equipment that such scrutiny could ultimately befall XPeng vehicles if they are sold in the U.S.
Investors will certainly have to keep an eye on that situation as it relates to Chinese EVs and the U.S. market. But for potential XPeng stock investors, the more germane issue currently is Chinese sales.
Chinese Sales
Frankly, sales look strong. A recent press release from the company tells the story of its strong sales well:
Record monthly delivery of 5,700 vehicles in December 2020, a 326% increase year-over-year and a 35% increase month-over-month
Record quarterly delivery of 12,964 vehicles in 4Q 2020, a 303% increase year-over-year and a 51% increase from 3Q 2020
Xpeng delivered a total of 27,041 vehicles in 2020, a 112% increase year-over-year
And the EV market in China is one that is predicted to perhaps account for 1.8 million vehicles sold in 2021, and 6 million annually by 2025. 
The Bottom Line
I believe the profitable strategy for XPeng shares is going to be to buy them now as they are down on a bit of a deflation of the EV bubble.
There should be zero reason for U.S. exchanges to delist XPeng given that it doesn't sell in the U.S. currently. Watch Norway and Europe to see whether any security issues arise. If they don't, that bodes well for XPeng's ability to move into the U.S. market.
At the same time, keep an eye out for increasing tension between the U.S. and China in general, but for now I think XPeng shares should rise on an abundance of positives.