Read The Full Article On: Investorplace


With plenty of demand for electric vehicles, Nio could see $57 again soon
By Ian Cooper Dec 10, 2020, 11:29 am EST
Investors can't go wrong with electric vehicle stocks, especially ones as hot as Nio(NYSE:NIO). As I said on Nov. 13, "Nothing seems to slow this electric vehicle stock. Months ago, Nio stock was on death's door as a going concern.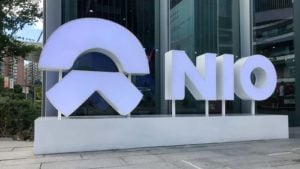 Source: Andy Feng / Shutterstock.com
Now, it's flying higher on exceptional demand and delivery numbers. Expecting more record-breaking deliveries, I believe NIO could hit $50."
At the time, NIO traded at a low of $40.55. It would hit a high of $57.20 before sinking to $46.
In my opinion, the latest dip is a buying opportunity as things change for the better. With solid monthly growth and earnings and higher demand for electric vehicles, I believe the NIO stock could be one of the top EV winners going forward. I also expect to see further upside once its next delivery numbers are released for December.
1. Delivery Numbers Are Flying Down the Road
For quite some time, it appeared NIO wasn't going to survive. Bankruptcy looked imminent, with the company warning there was "substantial doubt" in its ability to continue as a going concern.  However, things have gotten far better from that point.
In fact, since October company deliveries have remained above 5,000, doubling year over year for the eighth consecutive month. For example, deliveries were up just over 100% year over year that month, and in September they were up 133% year over year. I'm expecting similar growth in December as well.
At this rate, Nio is nowhere near being a "substantial doubt" any longer.
2. The Electric Vehicle Boom Isn't Slowing Down
EV sales are likely to improve with a Biden Administration pushing for a greener future.
Major automakers are switching their fleets to electric. General Motors (NYSE:GM) for example just announced it is investing $2.2 billion to increase its electric vehicle production. It also has plans to unveil 20 new EVs around the world over the next three years.
Countries all over the world are mandating greater EV production. California Gov. Gavin Newsom just signed an executive order banning the sale of gas powered cars by 2035.
That, in addition to a likely push from Joe Biden will be a substantial catalyst. In Europe, automakers are being forced to sell more EVs after lawmakers ordered them to cut CO2 emissions by 40% by 2021.
3. Analysts Still Like Nio Stock
In recent weeks, JP Morgan analyst Nick Lai upgraded the stock to a buy from a hold. He also increased his price target to $40 a share, believing China's EV market share could quadruple over the next five years.
Helping quite a bit, Nio continues to produce stellar earnings. In its most recent quarter, its adjusted loss came in at 12 cents, which was far better than expectations for 18 cents.
Revenue of $666.6 million beat estimates for $663.29 million. Gross margins also improved to 12.9%, as compared to expectations for 11.25%. Nio even guided deliveries higher to between 16,500 and 17,000 vehicles.
So much for "substantial doubt" about its survival. Nio appears fundamentally healthy here with strong growth.
The Bottom Line on Nio Inc. Stock
If Nio can continue to produce blow-out earnings, and even better deliveries, $57 may be a low-ball target for this stock. Again, things have changed for the better for the EV company.
With solid monthly growth and earnings, coupled with higher demand for electric vehicles, I believe NIO stock could continue flying down the road. I also expect to see further upside once its next delivery numbers are released. Use every dip as a buying opportunity with Nio. There's still plenty of upside opportunity here.
Before the company releases Dec. delivery numbers, you may want to take a position in the stock. Most times, the stock will move higher after the release, just as it did after its news on Sept. 3, Oct. 2, Nov. 2, and Dec. 2.