Read The Full Article On: Investorplace


It's been a crazy ride. But have things gone too far for NIO stock?
By Tom Taulli, InvestorPlace Writer & IPO Playbook Editor Dec 4, 2020, 8:03 am EST
Nio (NYSE:NIO) seems to know only one thing: speed. The company, which is a top developer of electric vehicles (EVs) in China, has seen NIO stock go from $2.27 to $46 during the past year. Oh, and most of the gains have come since early June! The market capitalization is now at $62 billion.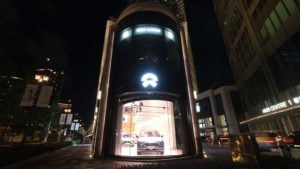 Source: Robert Way / Shutterstock.com
The company is fairly young, having been started back in 2014. The founder and CEO, William Li, came from humble beginnings but proved to be a successful serial entrepreneur in his 20s. He would go on to launch companies like Bitauto (NYSE:BITA).
But as for Nio, he saw an opportunity to capitalize on the rapidly growing wealth of China by developing luxury EVs. Although, his strategy involved having relatively affordable pricing.
Getting Nio off the ground was no easy feat. Li had to raise enormous amounts of capital from Baidu (NASDAQ:BIDU), Tencent Holdings (OTCMKTS:TCEHY), Temasek, Sequoia, Lenovo and TPG. He also had to deal with several recalls. But Li was able to manage through all this — and created an automotive powerhouse.
Then now what for Nio stock? What can we expect? Let's see.
Traction
Keep in mind that, earlier in the year, the prospects for Nio did not look particularly good. The Covid-19 virus had a devastating impact on the business and cash was running low.
So Li issued more stock and cut costs. But his most important move was to arrange a $1.4 billion financing deal from Hefei, the capital of China's Anhui province.
With the infusion, Li was able to pull off a swift turnaround. Just look at the latest quarterly results. The company announced the delivery of 12,206 vehicles (for the three months ended Sep. 30), compared to a mere 4,799 vehicles in the same period a year ago and 10,331 vehicles for the prior quarter. As for the revenues, these shot up by 146% on a year-over-year basis to $666.6 million. The Wall Street consensus was for $655 million. The sequential increase was an impressive 21.7%.
Nio is known for its style and design. But the company has also made great strides with its technologies. The powertrain is state-of-the-art, with a sophisticated e-propulsion system. There is also smart connectivity, Level 2 autonomous driving capabilities and the NOMI AI virtual assistant that personalizes the driving experience. Nio cars have 23 sensors along with the Mobileye EyeQ4 ADAS processor.
Another key focus for innovation has been on battery technologies. In August, the company launched its Battery as a Service program, which makes it possible for customers to subscribe to battery packs separately.
Bottom Line on NIO Stock
China's economy has mostly recovered from the Covid-19 pandemic — and of course, this has been a catalyst for Nio. But the growth is likely to continue for the long haul. Consider that China has made substantial investments in building the infrastructure for EVs and there are attractive subsidies. The goal is to for EVs to account for 50% of new auto sales by 2035.
Yet despite all this, Nio stock still has some notable risks. The competition remains intense. In fact, one of the toughest rivals is Tesla (NASDAQ:TSLA), which has made major inroads in China's market.
And yes, another risk is the politics of China, which can always be dicey. We saw a recent example with this regarding Alibaba's (NYSE:BABA) Ant, in which the government intervened by stopping the massive public offering. There have also been new regulations imposed on the fintech sector.
But perhaps the biggest risk is the valuation. Nio stock currently trades at a hefty 58 times sales. Of course, much of the EV sector seems quite bubbly as well. Even operators with scant revenues are commanding stretched valuations.
Now it's true that bubbles can last awhile! After all, the dot-com boom lasted from 1996 to 2000. But investors should still be cautious with the EV boom. The industry is capital intensive and is cyclical. And recently, there has been a spike in selling. Consider that Nio shares are off about 20% during the past week. In other words, this stock is really for those who have the stomach for volatility.