Read The Full Article On: Investorplace


Ford (NYSE:F) continues to go all in on its electrification strategy. One of the company's latest announcements was an all-electric version of its popular Transit commercial vehicle. Since then, Ford stock has been on a relatively steady uptrend despite bottoming out at the onset of the pandemic.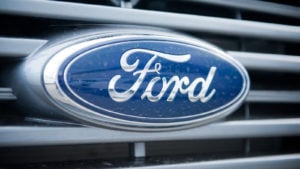 Source: JuliusKielaitis / Shutterstock.com
So, should you be interested in taking a position in Ford? If you do, you'd be among good company — many Robinhood investors have already been buying up the stock for quite some time. But we don't know enough to assign a motivation to them. In late summer, I saw Ford as a tossup stock. Right now, though, investors are planting their flag, expecting it to go higher.
And maybe you should, too. But just keep in mind that it could be a waiting game.
Ford Stock Is in the Early Innings
At least, that's the message from Ford's new CEO, Jim Farley. The Wall Street Journalreports that the all-electric version of the Transit — which is the top-selling commercial van in the U.S.– is a key element in Farley's growth strategy.
First, Ford will try to use the Transit to extend its sizable lead in commercial vehicles. At this time, the company has over 50% of that market. At the beginning of October, the car maker announced sales of 93,670 Transits in 2020, including 38,890 in the third quarter.
In the United States, Ford sold almost 154,000 Transits in 2019, which was an 11.67% gain from the Transits sold the year before that. What's more, the company sold over a half million of the vehicles worldwide. So, with the E-Transit possessing a starting price tag of around $45,000, this seems like a winning strategy for Ford.
But there's a second element that is sure to draw excitement and, perhaps, skepticism: Ford is also planning to use its new electric vehicle (EV) to add new subscription services and create revenue post-sale. The company sees this as a way to facilitate businesses making the transition to plug-in vans.
This services approach is based on an epiphany Farley had, realizing that commercial drivers had become much more inclined to view the truck as a "box" that houses digital features. Farley noted, "We see these new digital capabilities with electric vehicles as a huge growth area for our revenue and our relationship with the customer."
Among these features, owners will have the ability to remotely check the van's battery life, preprogram the van to "recharge when electric rates are lower," and even coach drivers via preinstalled voice commands.
However, the WSJ also reported that Roger Lanctot of Strategy Analytics said automakers are having difficulty translating the data they receive into value-added features. Lanctot pointed out that even the manufacturers incorporating Amazon's(NASDAQ:AMZN) Alexa into their vehicles are finding it hard to make money off those services.
The Transformation Will Not Be Cheap
Then there's the question of how Ford pays for all of this new tech. That is something that traditional investors in the legacy car maker need to understand — this is not your grandfather's Ford stock. It's not even your father's Ford. Essentially, making the transformation to an EV company — with a heavy reliance on a still-being-defined Service sector — will cost a lot of money.
This means, per Farley, that the company absolutely needs its core automotive business to fund the new initiative. And that's where the narrative becomes a bit less rosy. Already, we know that consumers are buying used vehicles over new ones. Plus, there's a growing drum beat for more lockdowns when the presumptive Joe Biden administration takes the reins.
So, where does that leave the company and it's upcoming EV endeavors?
Will Ford Ever Be a Value Stock Again?
There are some vocal people arguing that Ford should not reinstate its dividend. When asked about it on the third-quarter conference call, Farley declined to comment until the spring. That's a fair response. And I would rather the company wait until they make a definitive statement that's hard to retreat from.
However, this also means that — at least for now — Ford is embracing its new role as a growth stock, asking investors to take a journey with them. For the millennial investors who are buying Ford stock via Robinhood, that dividend doesn't matter much. But for long-time investors, it may be a bridge too far.
Personally, though, Ford has become a little more intriguing to me. However, unlike the company's electrification strategy, I'm not ready to go all in. But that doesn't mean the stock's not worth a small position.