For many analysts, Tesla's current situation is surprising in many aspects, from the market value to the strategy of investing zero dollars in advertising. Something that collides with a market where brands fight fiercely to gain a foothold in the different media and social networks that brings the latest news to their audience. But the question is, will Tesla be able to keep this privilege forever.
According to the Statista portal's data, while Elon Musk spends practically nothing on advertising, other brands reach very high figures per unit.
For example, we have Genesis, Hyundai's luxury division, which, according to estimates in the United States alone, spends $2,057 per vehicle. It is followed closely by Lincoln, owned by Ford, at $1,911 per unit, and Jaguar at $ 1,542.
As we can see, the list is starred in its top positions by premium brands, which have a higher margin and can afford a higher expense in this regard. On the other hand, brands like BMW barely spend $202 per unit sold, and Honda $196.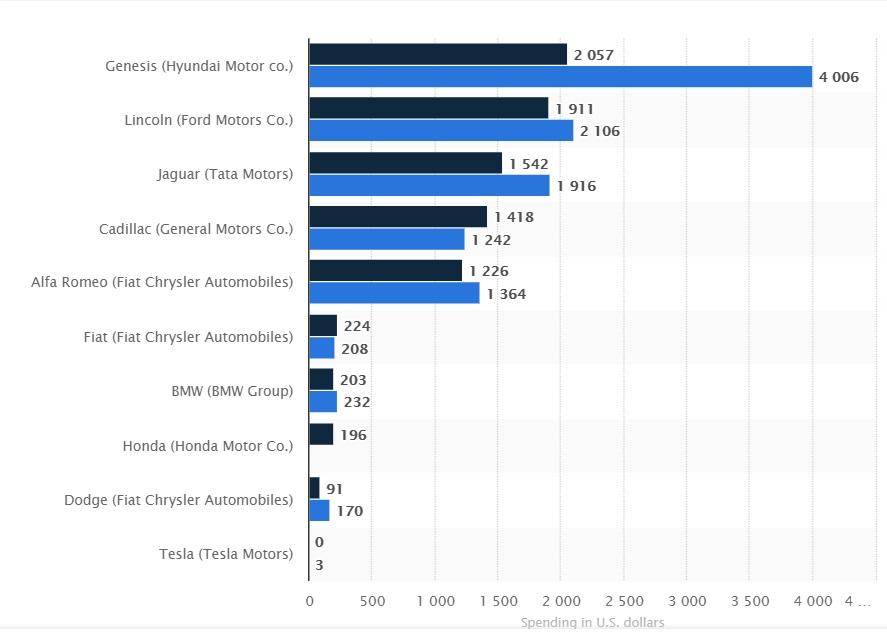 In the case of BMW, if we take into account that in 2019 they sold 324,826 units in the United States, this would give us an advertising expense in the American market of 65.6 million dollars last year in that market. A figure that does not seem too high.
The point is that at the moment, Tesla can afford to keep its marker in advertising spending at zero thanks to the novelty effect and the little competition it has. We can add the priceless campaign that Elon Musk does from his Twitter account, and the impact that each tweet has on the media. Also the synergies that he achieves with his other company, SpaceX, with which he has completed one of the biggest advertising campaigns success stories with the launch of its Roadster into space. A launch that, on the other hand, we do not know what cost it has had and who has paid for it.
But Tesla is in a frenzy of growth with the 2020 start-up of the Shanghai factory, which will be joined in 2021 by those in Berlin and Texas. All in all, by the end of next year, Tesla will have four operating vehicle factories.
This will take its production capacity to much higher than current figures, with an estimated annual total of between 600,000 and 700,000 in 2021. This will continue to grow to exceed one million units per year in 2024.
At the same time that Tesla grows, the competition will deploy its new proposals, which will mean that there will be an increasingly competitive market where customers will have more options before them. All in a sector with models with increasingly broad autonomy and an increasingly extensive recharging network.
A scenario where Tesla will have to place an increasing number of vehicles each year and face increasingly competitive competition. Something that will inevitably make the sale of each unit more difficult.
Suppose companies with market share and revenue like Amazon and Apple spend huge amounts of money on advertising. In that case, the question is whether Tesla will have to change strategy or can continue with the current model.