A conglomerate of companies formed by names such as NYK Line, one of the largest transport companies in the world, as well as Toshiba Energy Systems, Kawasaki Heavy Industries, Nippon Kaiji Kyokai (ClassNK), and the ENEOS corporation, have confirmed their alliance with the Organization for the Development of New Energy and Industrial Technologies of Japan (NEDO) for the start of an ambitious demonstration project for the commercialization of ships equipped with a hydrogen system to electrify this sector.
The project, which will begin this September, is Japan's first effort to develop a hydrogen-powered vessel that is commercially available and not just demonstrative. Something that will involve not only producing a functional prototype, but also the necessary infrastructure for its operation.
The companies will develop a 150-ton high-power ship with a capacity for about 100 passengers. It will function as a medium-sized tourist ship and open the doors to the beginning of the development of a technology that will allow the design of alternatives to the current pollutant models.
The roadmap for this exciting initiative will start the preliminary work this September, and in 2021 the design of the ship and its refueling system will begin. A prototype that will begin construction in 2023 and its first demonstration route in the Yokohama area is expected to be completed in 2024.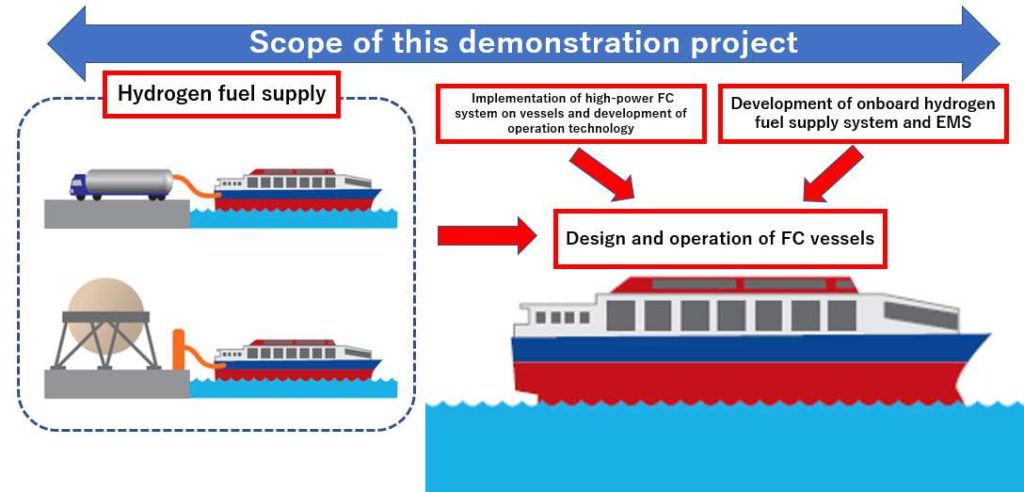 One of the most critical parts of the project is that they will not focus on transforming conventional ships into electric ones. Still, the project seeks to go one step further by involving the entire production chain of these new models, from the hull's design, the stack fuel, refueling infrastructure, hydrogen supply, etc.