Read The Full Article On: Investorplace

As China came back from the pandemic in July, NIO posted a 322% year over year jump in deliveries.
When I last weighed in on Nio (NYSE:NIO), I said, "While a good deal of optimism has been priced in, we could see further upside. That is, if the company can continue its string of solid monthly delivery numbers."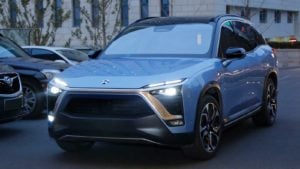 Source: xiaorui / Shutterstock.com
That was on July 23, as the NIO stock traded at a low of $11.85.
Nowadays, the NIO stock is consolidating around $13, and could break to $17, near-term. All as it still continues to produce solid monthly numbers.
Helping, Wedbush analyst Daniel Ives recently noted:
"We continue to believe [electric vehicle] demand in China is starting to accelerate in July/August with Tesla (NASDAQ:TSLA) competing with a number of domestic and international competitors for market share with Giga 3 remaining the linchpin of success which remains the prize that [Chief Executive Elon] Musk and Tesla are laser focused on capturing."
That same "accelerating" demand is also driving further upside for NIO.
NIO Monthly Deliveries are Only Improving
For quite some time, it appeared NIO wasn't going to survive. Not only did the coronavirus crush electric vehicle demand at one point, the company even said there was "substantial doubt" in its ability to continue as a going concern.
"Its cash balance of $151.7 million as of Dec. 31 is not adequate to provide the required working capital and liquidity for continuous operation," the company said.
Shortly after, NIO turned a major corner with game-changing delivery reports.
NIO Deliveries Soared 322% in July 2020
For July, NIO posted deliveries that were 322% higher year over year. Its two models – the ES6 and the ES8 – had combined deliveries of 3,533. William Bin Li, founder, chairman and CEO of NIO, said:
"In July, we are pleased to have achieved the second-highest monthly delivery results despite the impact on productions due to a 5-day suspension of manufacturing to prepare for EC6 productions and other flood-related supply chain challenges."

"More proudly, we have achieved a record-high monthly order growth, attributed to a stronger demand of the ES8 and ES6, together with the increasing EC6 orders."
In June 2020, Nio delivered 3,740 vehicles, up nearly 180% year over year. That included 2,476 E6 SUVs and 1,264 of its ES8 models.
For May 2020, it delivered 3,436 vehicles, including the delivery of 2,685 ES6 models.
For April 2020, deliveries were up to 3,155 for the month, a growth rate of 181% year over year, and 106% month over month. Better, for the second quarter of 2020, NIO delivered 10,331 vehicles, an increase of 191% year over year.
Nio's Second Quarter Report Was Also Solid
Deliveries of vehicles jumped to 10,331 in the second quarter of 2020. That included 8,068 ES6s and 2,263 ES8s, compared with 3,553 vehicles delivered in the second quarter of 2019 and 3,838 vehicles delivered in the first quarter of 2020, as noted by the company.
https://thenextavenue.com/2020/03/27/tesla-closes-the-factory-in-california-and-begins-to-run-out-of-stock-china-gigafactory-reaches-production-with-3000-units-per-week/