Read The Full Article On: Bizjournals
With gas prices hitting historic lows across the country these days, is now the time to consider an all-electric or hybrid vehicle?
I'd be willing to wager that gas prices today are a lot lower than they're going to be a year or two from now, but that's just my opinion (we'll come back and review this argument in May 2021 just for fun!).
So if you do see gas prices increasing in the future and want to invest in a gas-saving hybrid or a no-gas electric vehicle, there are myriad options are out there.
There are three hybrid/electric alternatives for vehicles right now: Hybrid, all-electric and plug-in hybrid-electric (PHEV) vehicles. I really don't have many nice things to say about PHEVs because they need vast improvements before they become truly practical. Of the PHEVs I've tested recently, they only get around 20 miles on their electric charge before they switch over to their gasoline engine. Only 20 miles? Really? (Here's a review of the 2020 Volvo S90 T8 PHEV from February and a review of a the Mitsubishi Outlander PHEV from August.)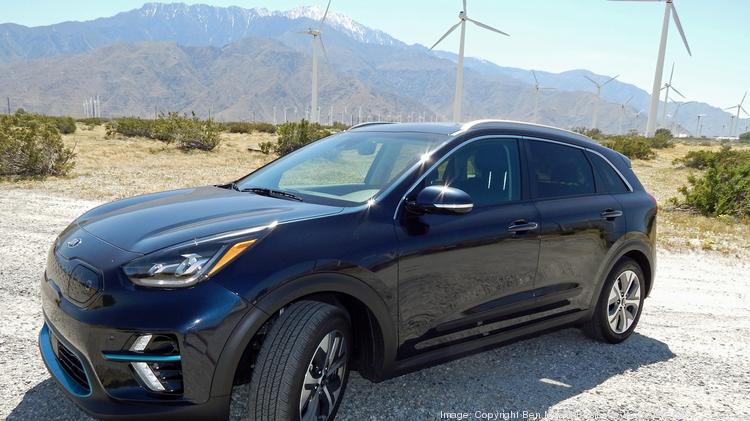 RECOMMENDED
Having narrowed the choice down to two, then, what's the verdict? All-electric or hybrid?
Kia Niro EV EX Premium
I recently had the opportunity to test two very well-made vehicles: the Kia Niro electric vehicle and the Toyota Avalon hybrid.
I tested the Kia Niro EV first and was extremely impressed by the vehicle's acceleration. This car, like most other electric cars, gets up and goes in a hurry. It can reach 62 miles per hour in less than eight seconds.
This car is extremely quiet. It's almost too quiet. Kia admits that pedestrians might not be able to hear the Niro EV coming at them, so Kia actually makes the car noisier on purpose. Kia's installed something called a "pedestrian warning system," which is a speaker and controller assembly mounted behind the Niro's front bumper that makes a high-tech whirring noise so pedestrians can hear the car.
Mileage, for those who can interpret mileage for all-electric cars, is rated at a combined 112 miles per gallon equivalent. Kia says you'll save $4,000 over five years by not having to buy gas and estimates that recharging the car will cost you $600 a year in electricity costs.
There's the rub. Recharging the car. Kia says that if you use the provided AC charging cord and plug it into your garage electrical outlet, it will take 59 hours to completely recharge the car's battery. If you install an AC charging system in your garage with electric vehicle supply equipment, your recharging time goes down to nine hours. And if you use a DC charging system you might be able to find out on the highway, you can recharge the car in as little as one hour.
But what about range? Kia estimates the Niro EV can travel 239 miles on a full charge. What if you want to make a 300-mile road trip? You must plan it out well in advance, making sure that there are DC charging stations along your route, and hope that no one is using the charging station when you get there.
Or you can buy a hybrid.
The Kia Niro EV EX premium model I tested had a base price of $44,995, which included options like a $1,080 cold weather package; a $1,000 "premium EX" package that included LED headlights and a heated steering wheel; and a few other extras that brought the total price to $47,155.
Toyota Avalon Hybrid
The hybrid I tested was the Toyota Avalon, which doesn't need to be plugged in; the car's braking and internal combustion engine recharge its electric motor.
It requires gas but it doesn't use much. The 2.5-liter, four-cylinder, 176-horsepower engine, coupled to an electronically controlled continuously variable transmission, is rated at 43 miles per gallon for combined, city and highway driving. With its 13.2-gallon gas tank, that gives the Toyota Avalon a range of 567 miles, more than double the range of the Kia Niro.
Plus, there's absolutely no need to worry about finding a recharging station.
The tested Avalon had a base price of $40,280 and included an optional $1,720 upgraded sound system, and a few other extras that brought the total price to $42,836.
Verdict
If you're like a lot of people, you're probably concerned about the current limited range of electric vehicles. Once the range of these vehicles, and their batteries, exceed 300 or 400 miles, and more charging stations are built across the country, I think people will get more excited about electric vehicles.
Until then, one could be more than happy saving on gas with a hybrid vehicle.
And I think the Toyota Avalon hybrid is an excellent choice over an all-electric vehicle.